TR-398 Issue 3 WiFi Testing with LANforge: 32 AXE + Mesh
The TR-398 WiFi Performance test plan by the Broadband forum provides a comprehensive set of tests to qualify the performance of WiFi access points (APs) to be deployed in residential and small office indoor environments. The TR-398 Issue 3 includes new test cases as compared to TR-398 Issue 1 and 2. The new test cases in TR-398 Issue 3 include Latency-under-Load, Quality of Service, Multi-Band throughput, Mesh test cases, 6E support and automated calibration of the testbed. This automation logic allows customization of test executation and pass/fail metrics to allow interested users to run advanced tests not specified in TR398.
The TR398 issue-3 document from Broadband Forum is still in progress. Pass/fail thresholds and perhaps some other small changes to the test procedure are still being resolved.
See example reports auto-generated by this testbed: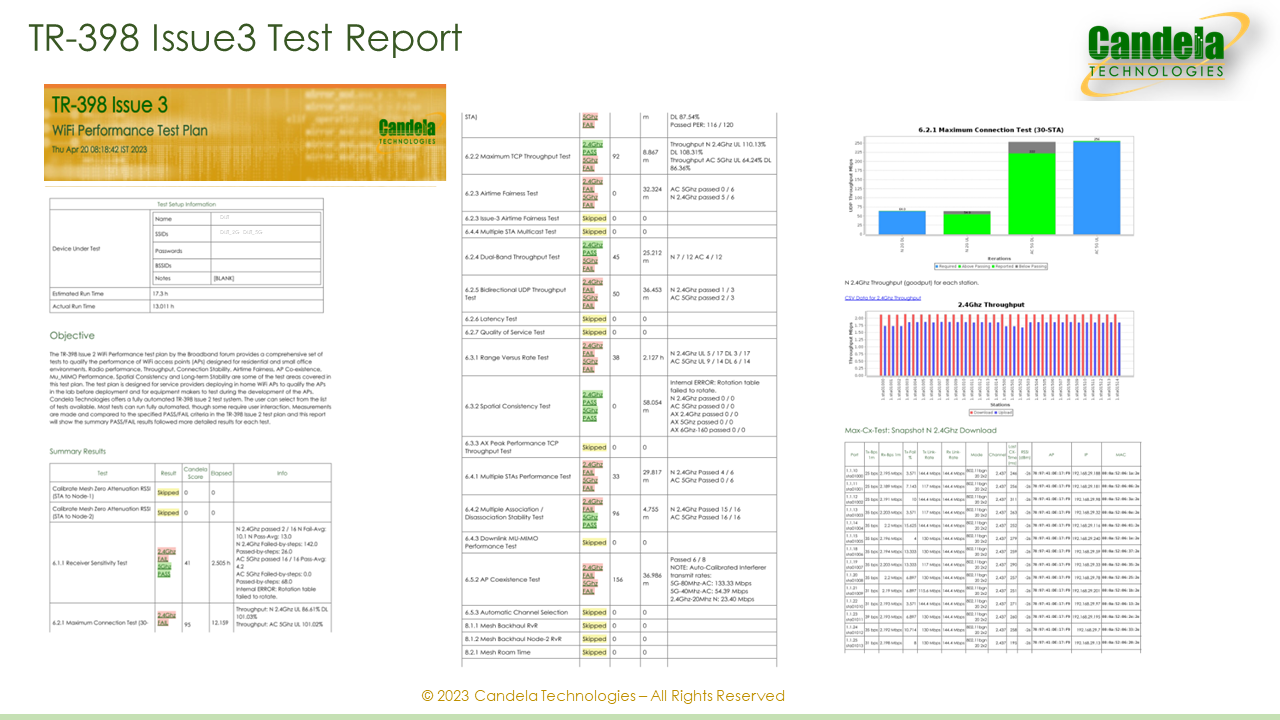 Key Measurements
PASS/FAIL results table for each test per the TR-398 document.
Detailed per test measurements.
Overview
Slide presentation for Candela Technologies' TR-398 issue 2 solution.
Candela Technologies offers a fully automated TR-398 Issue 2/3 test system. All the required test hardware including multi station emulator, traffic generator, RF enclosures, turntable, programmable attenuators, and fully automated test software along with PASS/FAIL results are provided in a packaged, easy to use and affordable solution. This testbed uses 32 ax210 tri-band 2.4/5/6E radios for AX test cases, plus 6 dual-band virtual station radios. This offers additional testing opportunities, including AXE testing and 32 station OFDMA tests.
Wiring Diagram for TR398 Issue-3 without Mesh.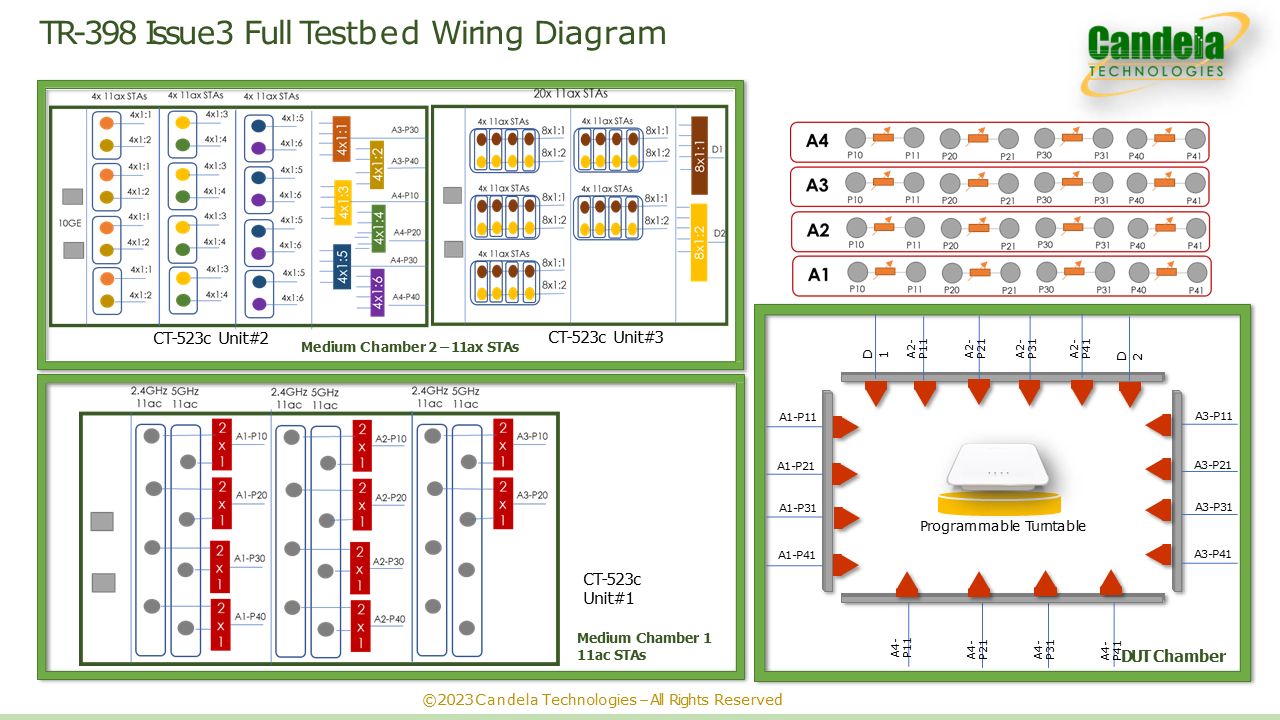 More testbed pictures:
CT840b Front
CT840b Inside
CT840b Front Open
CT840b Back
Wiring Diagram for TR398 Issue-3 with Mesh.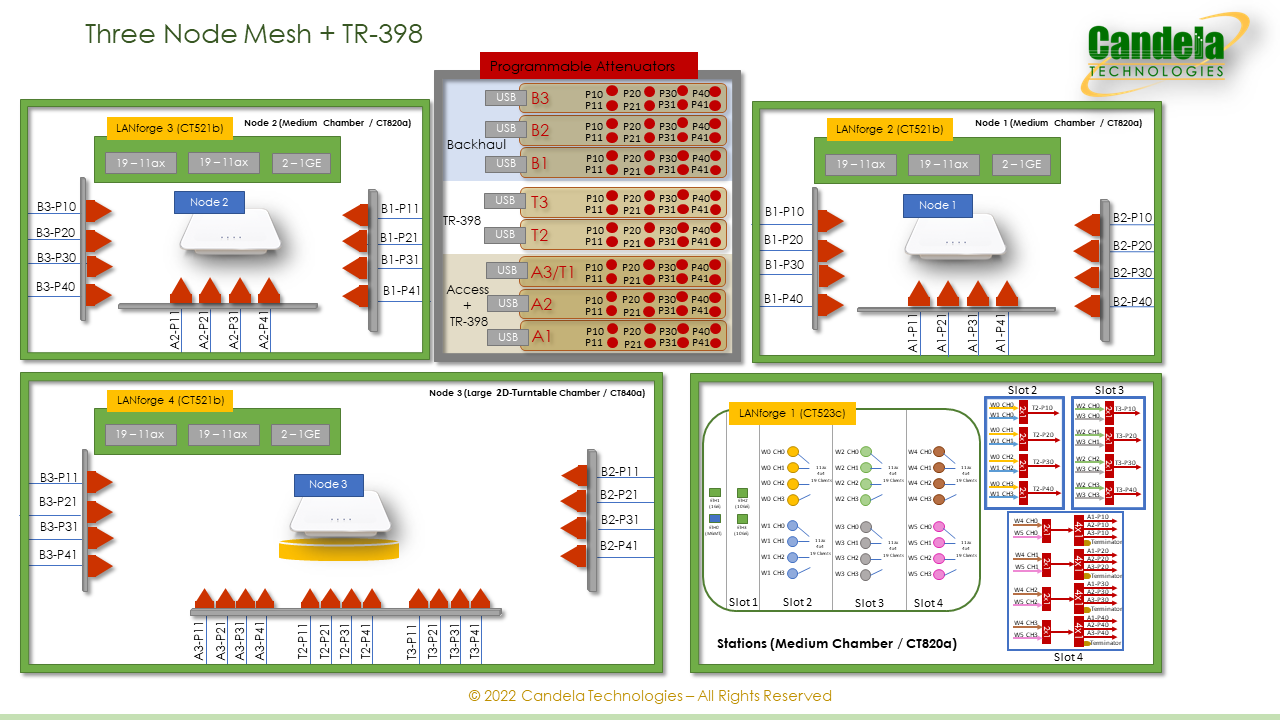 The test setup, testbed components and environment are all created as per the requirements in Section 5 of the TR-398 Issue 3 test plan document. Some of the components may be different than pictured depending on the options purchased. Please ask your sales representative for details.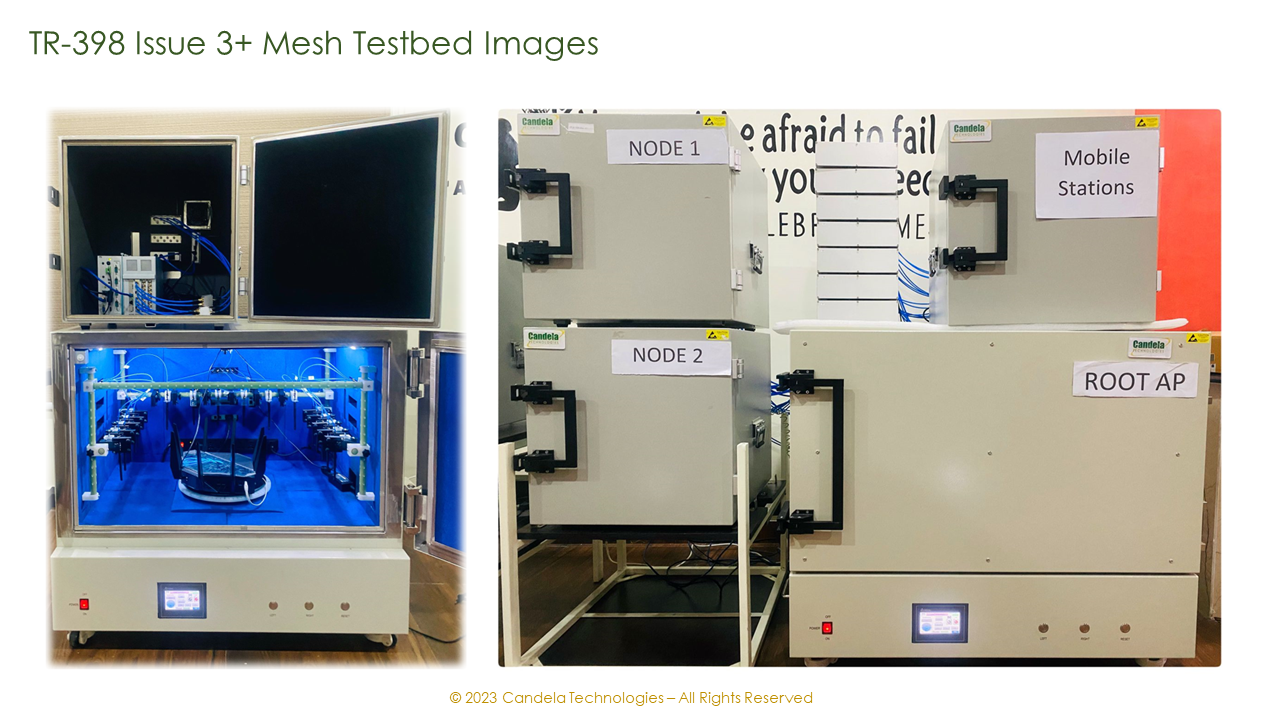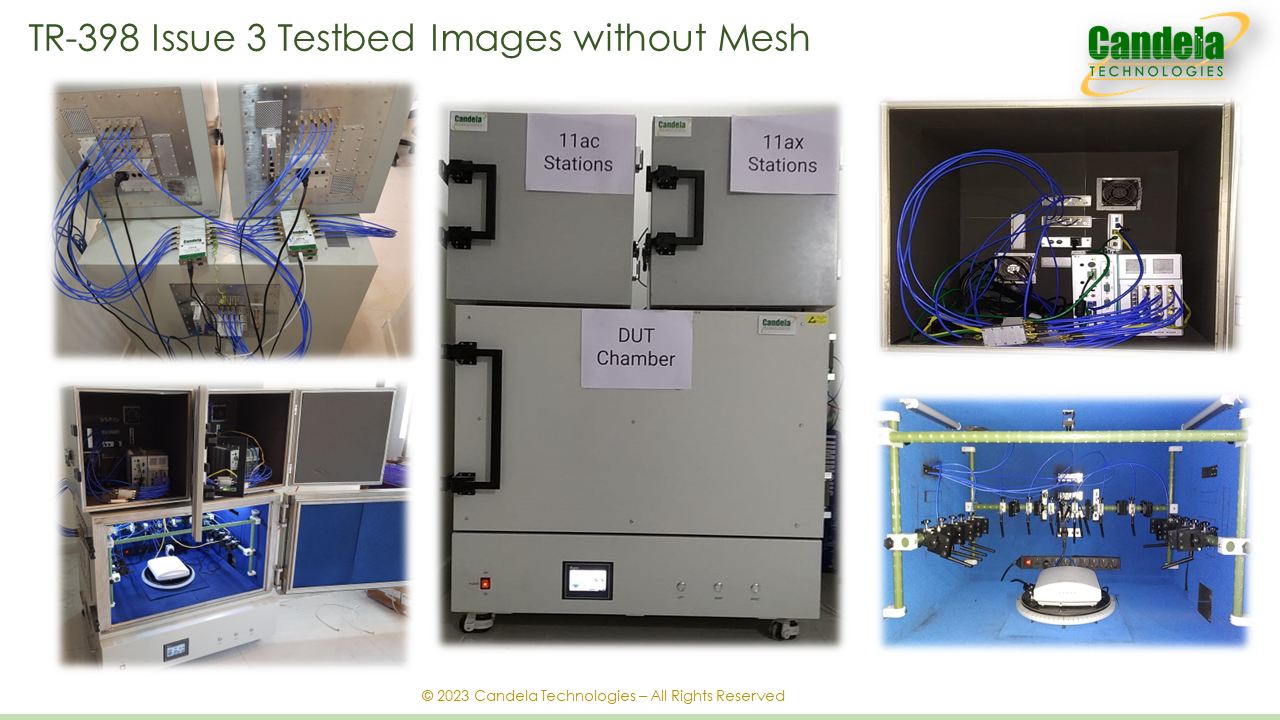 The LANforge GUI provides integrated configuration and automation control for all the components of the testbed including the station emulators, traffic generator, attenuators, and turntables. The entire set of supported TR-398 Issue 3 tests, or optionally a subset of these tests, can be run with a single push of a button. An HTML, PDF, and xlsx report can be generated with a second button click when the test completes.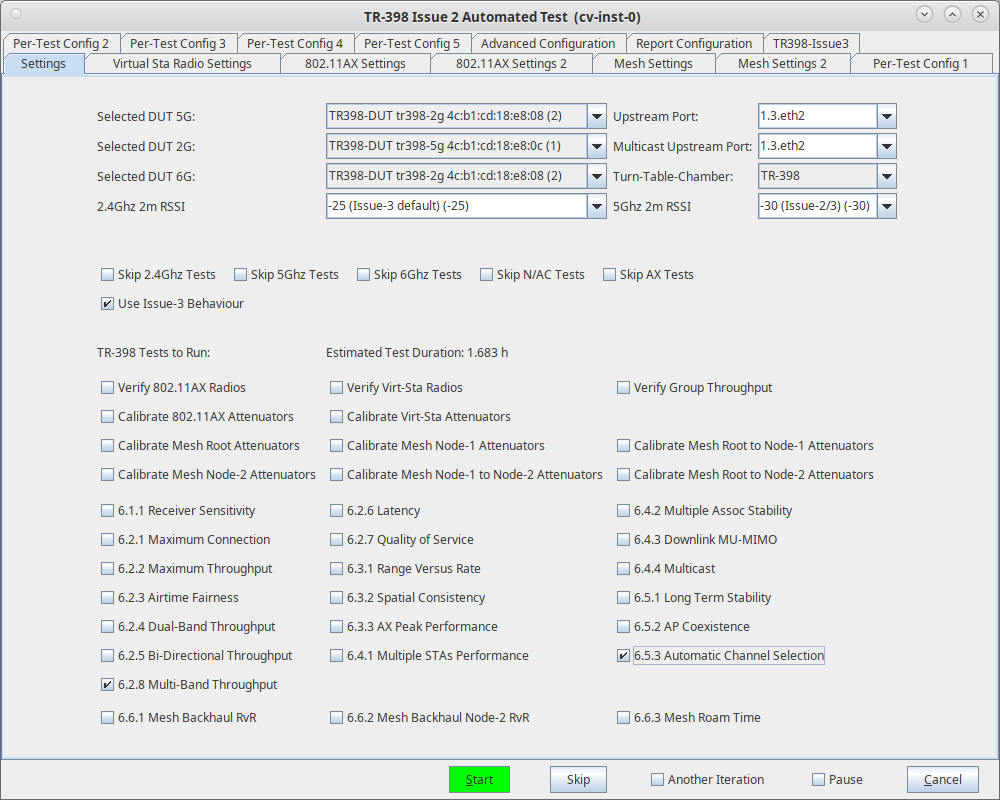 Includes these Building Blocks
Hardware

LANforge CT523c Multi station Emulation and Traffic Generation Hardware – minimum 6 dual-band radios, 32-11ax radios, 6-eth ports (optional 10gE Ports).
CT521b systems for auto-calibration and for interferer devices needed for some tests.
CT820a-Medium RF Chambers.
CT822a-Medium RF Chambers with internal antenna supports.
CT840a or CT840b Large RF Chamber with Programmable Turntable.
CT714 4 Port Programmable Attenuators.
RF Splitters/Combiners.
Directional Antennas.
RF Cables.

Software

TR-398 Issue 2/3 Automation Software
Normal LANforge WiFi testing features are included at no additional charge.
Key Tests from TR-398 Issue 3 Document
Calibration and Testbed Setup

Automatic calibration of station attenuators.
Automatic calibration of mesh backhaul attenuators.
Automatic verification of basic testbed correctness.

6.1 RF capability

6.1.1 Receiver Sensitivity Test (6E not supported at this time)

6.2 Baseline performance

6.2.1 Maximum Connection Test
6.2.2 Maximum Throughput Test
6.2.3 Airtime Fairness Test
6.2.4 Dual-band Throughput Test
6.2.5 Bidirectional Throughput Test
6.2.6 Latency under Load Test
6.2.7 Quality of Service Test
6.2.8 Multi-band Throughput Test

6.3 Coverage

6.3.1 Range Versus Rate Test
6.3.2 Spatial Consistency Test
6.3.3 802.11ax Peak Performance Test (4x4 160Mhz and higher not supported at this time)

6.4 Multiple Stations Performance

6.4.1 Multiple Stations Performance Test.
6.4.2 Multiple Association/Disassociation Stability Test.
6.4.3 Downlink MU-MIMO Performance Test (6E not currently supported, not required by TR398i3).
6.4.4 Multicast Performance Test (not officially part of TR398 Issue3).

6.5 Stability/Robustness

6.5.1 Long Term Stability Test
6.5.2 AP Coexistence Test (6E not currently supported.)
6.5.3 Automatic Channel Selection Test (6E not supported at this time)

6.6 Mesh test cases (TR398 issue-3)

6.6.1 Mesh Backhaul Rate vs Range
6.6.2 2-hop Mesh Backhaul Rate vs Range
6.6.3 Mesh Roaming Test

7 AP Stability/Robustness

7.1.1 RSSI Accuracy (Not supported at this time)
7.1.2 Channel Utilization Accuracy (Not supported at this time)
7.1.3 Noise Accuracy (Not supported at this time)
Many of the features not currently supported by the automation can be executed manually.
Lead Times and Support:
Lead Times: Four to six weeks.
TaaS/Onsite Support: Customers with only occasional test needs can use our Test as a Service option. Candela engineers can do the testing for you in our fully equipped test lab and provide a detailed test report with recommendations.
For more information, please contact sales@candelatech.com or give us a call at: 1-360-380-1618